Cupcake Diaries
Written under the name Coco Simon.
The Cupcake Diaries is a series about four middle-school girls who start their own cupcake business: Katie, Mia, Alexis, and Emma. I write all the books about Katie and Mia under the name Coco Simon.
I love to bake, and each time I write a Cupcake Diaries book I experiment with new recipes so that the girls in the club can make them, too.
I also like to interview kids I know to find out what life is like in middle school today. My nieces Julia and Hana; my friends Juliet, Sarah, and Allora; and my stepson Zane have all helped me. Thanks, guys!
Complete List of Titles
Find a complete list of my Cupcake Diaries books on my book list.
Book List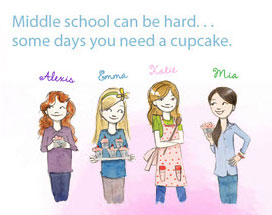 Website
Check out Simon & Schuster's official Cupcake Diaries page
Go Now!
Cupcake Diaries is an adorable tween series. Katie's Cupcake Cure is the first book, and I really enjoy reading about these four friends. Each of the books is from another character's point of view, which is refreshing, and the story lines deal with true tween issues – divorce, moving, starting middle school, growing apart from friends, finding new friends, etc.
Book 'Em Blog
You will love it. Cupcakes rock!
Ella, an Amazon.com reviewer